How Does A Red Dot Sight Work?
Have you ever wondered how shooters can aim so accurately, even in low-light conditions?
The answer is simple: red dot sights.
Imagine aiming for precision in every shot you take, ensuring clarity even in challenging conditions. That's the goal every shooter strives for. The red dot sight has emerged as a key player in achieving this objective. Curious about this game-changer? In this article, we'll discuss what red dot sights are, how they work, and why they've become a favorite among shooters.
What is a Red Dot Sight?
A red dot sight is a type of non-magnifying reflector sight predominantly used in firearms and certain sporting optics. Its primary feature is an illuminated dot, often red but sometimes green, that serves as a precise point of aim. This dot stands out clearly against the target, ensuring quick and accurate target acquisition. Despite the potential for color variations, the term "red dot" remains the popular nomenclature due to its widespread use and recognition.
How Does a Red Dot Sight Work?
At its core, the mechanism behind a red dot sight might seem like a sprinkle of technological wizardry. But when you break it down, it's a blend of optics and engineering finesse. The sight contains a lens with a unique coating that captures the light from an LED, typically red. This lens, acting much like a selective mirror, reflects only the red light back to the user's eye, creating the distinct red dot we see. All other ambient light passes through, ensuring that only the reticle stands out, offering a clear and undistracted point of aim.
Types of Red Dot Sights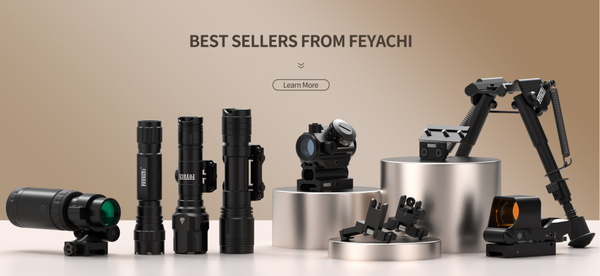 There are primarily two types of red dot sights:
Reflex Sights: These use a lens system to reflect the reticle back to the user's eye. They are compact and versatile, suitable for rapid target acquisition.
Holographic Sights: These utilize a laser and hologram to project the reticle. They offer a wider field of view and are often preferred in tactical scenarios.
Lining Up with a Red Dot Sight
For a shooter, lining up the sight with the target is paramount. When the red dot is superimposed on the target and the sight is properly zeroed, the bullet's point of impact should align with the point of aim. This makes red dot sights incredibly intuitive, especially for beginners.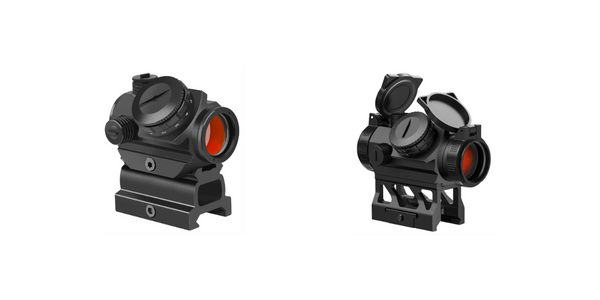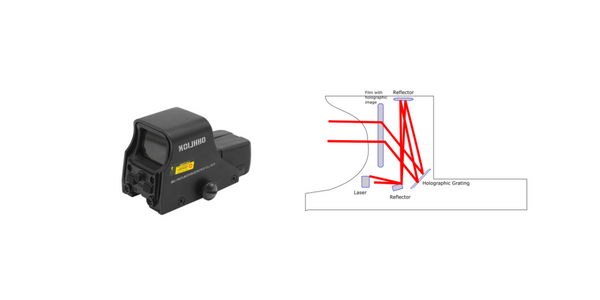 Red Dot Sights in Different Lighting Conditions
One of the standout features of red dot sights is their adaptability to various lighting conditions. Whether you're in broad daylight or the dead of night, the illuminated reticle remains visible. This is especially beneficial in low-light scenarios where traditional iron sights might fall short.
Accuracy and Versatility
Are red dot sights accurate? Absolutely. Their design allows for quick target acquisition, making them especially useful in situations requiring rapid and precise shots. Their versatility is evident in their widespread use, from rifles to handguns, showcasing their adaptability across different firearms.
Common Concerns and Misconceptions
Like all technology, red dot sights come with their set of misconceptions. One common concern is the blurriness of the reticle. This can often be attributed to astigmatism in the shooter's eye or potential defects in the optic. As for zeroing, it's essential to understand that like all sights, red dot sights need to be zeroed to ensure accuracy. This alignment process ensures the point of aim matches the point of impact.
Conclusion
The red dot sight has undeniably revolutionized the way we aim and shoot, offering precision and speed like never before. But as with all innovations, opinions and experiences can vary. What are your thoughts on red dot sights? Have they enhanced your shooting experience? Or perhaps you've faced challenges with them? We'd love to hear from you. Dive into the discussion below and share your insights, questions, or anecdotes about this game-changing tool. After all, the world of shooting evolves with shared knowledge and experiences!
Become A Dealer
Feyachi technology has taken pride in being at the forefront of illumination technology throughout the past decade. Our vision is to get the most advanced technology and performance into the hands of everyone across the world while maintaining a simplified and streamlined user experience. We would like you to join us in that Journey. With our top in the industry technology, manufacturing, customer support, and 5-year warranty, there is no better time to be a part of the Feyachi family. We realize that we are here because of you. Your dedication to our brand is the reason why we have come so far over the past 10 years and we are growing at a rate that we could have only dreamed of a few years ago. Our goal is to develop and maintain long term relationships with companies that share our same passion and commitment to illumination excellence. We want your customers to have the best flashlights and accessories out there and we can lead you there. If you wanna be our dealer, please contact us by info@feyachi.com.